News
The latest news on this change — carefully culled from the world wide web by our change agents. They do the surfing, so you don't have to!
Gaining Weight On The Job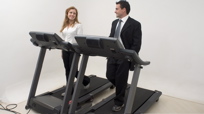 If you're starting a new job very soon, you might want to watch… your waistline. According to a survey performed by CareerBuilder.com, 45% of workers have gained weight since starting their current job; 50% of women say they've gained weight while 42% of men say they've also gained weight. With obesity rates going up in the workplace, you might want to steer clear of the office vending machine.
While there's no other obvious way than diet and exercise to keep the pounds off, CNN offers simple tips on how to avoid the dreaded workplace weight gain. Some suggestions include drinking plenty of water and taking the stairs. Who knew (we did)? Drinking plenty of water aides in weight control. If CNN's tips don't satisfy your diet needs, try our tips. The tips won't only help you keep the workplace weight off, but they'll also help you live healthier.
Share your tips for staying healthy in the workplace.
Posted: 6/30/08