News
The latest news on this change — carefully culled from the world wide web by our change agents. They do the surfing, so you don't have to!
The Credit Crunch Gets Animated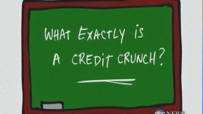 Credit crunch? Bailout? Dow tumbling? You may be aware of these things percolating in the news, but do you know what it all means for your future investments and why these economists seem so freaked out?

If you're just as confused as the rest of us as to how these economic issues directly affect you, then check out this great video from Abcnews.com. Taking a page from the old "School House Rock" videos, reporter Robert Krulwich explains why a credit crunch could bring the economy to a screetching halt.

After you watch the video, share your thoughts here! Did it help you understand the current crisis a bit better?
Posted: 9/30/08