News
The latest news on this change — carefully culled from the world wide web by our change agents. They do the surfing, so you don't have to!
Kitchen Remodel=Big Dollars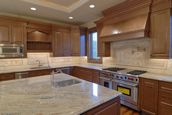 Think of the last gathering you had. Where did everyone inevitably end up? The kitchen is the room you've probably invested the least in, but if you put something into it now, you could reap big rewards later on.
Kitchen renovations often pay for themselves when an owner sells their home—you'll make back 75-100% of what you spent to paint, change out the cabinets and buy new appliances.

Even if you only paint and add new lighting, you will significantly update your kitchen and make it easier for a new family to envision gathering around the table and creating an inviting space for their own visitors.
Are you considering a kitchen renovation in order to make your home more attractive to buyers? Tell us about it! [Vancouver Sun]
Posted: 8/21/08