News
The latest news on this change — carefully culled from the world wide web by our change agents. They do the surfing, so you don't have to!
Failure to Launch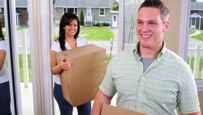 Many parents are expecting the credit crunch to get a little tougher as their college grads return home.
These students are looking for a little reprieve from their own mounting debt - 42% of 2007 graduates had more than $25,000 in student loan debt and 33% had credit card balances over $5,000 - so coming home seems like their only option.

Most parents don't see themselves turning their kids away; didn't your parents always tell you there was a room in their house if you ever needed it? But the fact of the matter is, times are tough and having an extra mouth to feed, wash, and use electricity can be daunting. So, to avoid forking over all the money yourself, you need to have a conversation with your
college grad.
First and foremost, find out how long they're staying. Most kids just want to get out of debt and be gone. It's pretty embarrassing to tell their friends that they're staying with you, not to mention the fact that dating is next to impossible—so they're more than willing to hurry and move on.

Once the length of the stay has been determined, you should discuss whether or not your college grad will be paying rent and some portion of utilities. This is probably a good idea as its incentive to keep them motivated. It helps you out financially so that you're able to still save money and contribute to your retirement accounts. If you agree not to charge them rent while they stay, at least make them pony up money for food and utilities—which are going to spike with another person in the house—and devise some sort of measurement where you can assess their financial situation so you know they're not blowing their money on beer and a Wii instead of paying you rent.

With a little frank discussion and some advance planning, welcoming your child back into the house doesn't have to be financially draining. As for the curfew issue? You're on your own. [Boston.com]
Posted: 5/20/08