Redbook magazine features monthly tips on different life change subjects.
Buying a Car: You're in Charge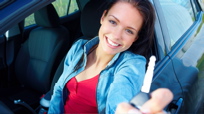 1. Identify your must-haves.
Think about the type of car you want: SUV or sedan, family or sexy. Then factor in price, safety, storage space, fuel economy, and other features that suit your needs. Instead of going from dealer to dealer, get info from websites like edmunds.com, kbb.com, consumer consumerreports.org.com, and caranddriver.com.
2. Now, dig deeper.
Do a few hours of online research before you go to the lot. Check vehicle reviews, resale value, dealer listings, and true market value (which you'll need later). Find out which features come standard and which up the price. Then, solicit quotes from multiple dealers by phone or via their Internet sales offices.
3. Take your top pick for a spin.
Head to a dealer for a test-drive to see how you feel behind the wheel. If you fall in love, don't show it: A salesperson who sees you're smitten is less likely to offer you a good deal. And to avoid getting sucked in by a car's hot color — or by a smooth-talking salesperson vow not to buy your ride that same day.
4. Be money-smart.
You've found your car. Great! Next, apply for a loan at your bank, which will offer a lower interest rate than your dealer. And ask your car salesperson about add-on fees (a.k.a. out-the-door fees). Some, like tax, title, and license, may not be negotiable, but others, like alarm systems, aren't worth the extra dough.
5. Learn to haggle.
Car salespeople are slick negotiators, so if you want a good deal, be ready to bargain. First, never negotiate down from the sticker value, but rather up from the true market value. And tell him that you're shopping around for the best deal and service, so he'll work harder to get you the car you love at the right price.
Car Smarts: 3 Questions for Ariane
Why is buying a car so intimidating?
A: We all fear that car salespeople will take advantage of us. You can build confidence by educating yourself before you step onto a lot. Also, if something doesn't feel quite right, or if the salesperson makes you uncomfortable, take your business elsewhere. And ask for guidance from a car-savvy friend — the final decision is yours alone, but the buying process isn't something you have to do all on your own.

What is the biggest mistake buyers make?
A: We rush into it. Dealers tell us to buy now and we also pressure ourselves to buy a car by a certain date. Instead, let yourself sit on the decision for a few days, so you'll step back from that sense of urgency and give your brain time to come up with questions you may have not considered.

What can I do to ensure that I'll be happy with my car in the future?
A: Before you sign the final contract, do a gut check. Are you thrilled about your purchase, or anxious that you'll regret it? Give that emotional voice as much of a microphone as you give to your analytical one. Car buying is a functional and financial decision, but it should also be exciting. So lead a little with your heart, and you'll drive away on cruise control.
Posted: 12/1/08