News
The latest news on this change — carefully culled from the world wide web by our change agents. They do the surfing, so you don't have to!
Stay Quit Monday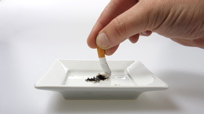 If you've been thinking about quitting smoking, this Thursday could be like your New Year's Eve. November 20th is the 33rd anniversary of Great American Smokeout Day, which was implemented by the American Cancer Society in order to encourage smokers to kick the habit. Unlike New Year's Eve, however, everyone celebrating on Thursday will have the same resolution—cutting smoking out of their life.

People across the country will be thinking of you and sending out their positive energy as you put down your cigarettes for one day. While having that kind of motivation for 24 hours is certainly powerful, where will you draw your strength the rest of the year? Well, the American Cancer Society has started a really cool new program called Stay Quit Monday, that you can start after you've made it through this weekend.

"Why Monday?" the web site says. "It's a fresh start—the January of each week. A day to refocus and recommit, celebrate your progress, or to quit again if you relapse."

What a powerful concept! If you give in and have a cigarette, you don't have to give up because you know there's another Monday right around the corner!

The Healthy Monday web site is full of resources and support, including links to helpful online tools. Give it a shot!
Posted: 11/18/08