News
The latest news on this change — carefully culled from the world wide web by our change agents. They do the surfing, so you don't have to!
Labeled to Enable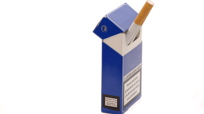 If you're eating a turkey sandwich with "lite" mayonnaise and drinking a diet soda, you expect your lunch is going to be healthier than that of the guy next to you eating the real stuff, right? What about when it comes to what you smoke?

In 2006, U.S. District Judge Gladys Kessler passed a major ruling that said tobacco companies' use of labels like "light" and "low tar" was misleading and ordered them to cease using such labels. Now the issue is back in front of the courts as the Justice Department wants tobacco companies to pay up to $14 bilion in penalties, and the companies say they did nothing wrong.

"The current punishment does not fit the magnitude of the crime," M. Cass Wheeler of the American Heart Association told USA Today. "That money should be used for education and cessation programs to break the cycle of addiction, not to entice children and adults to start and maintain a very deadly habit."

Do you think the "light" and "low tar" labels were misleading, or should we be smart enough to know that a cigarette is a cigarette, no matter what the label says? If they were indeed misleading, should tobacco companies have to pay?
Posted: 10/14/08