News
The latest news on this change — carefully culled from the world wide web by our change agents. They do the surfing, so you don't have to!
Ditch the Quit-Smoking Meds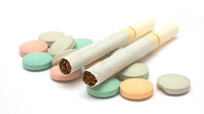 We know you want to quit smoking, and we want to be there to support you and cheer you on every step of the way, but if you feel like you need to take medication to fight the craving, then you might want to listen up.
There are a number of ways that you can fight your cigarette cravings; you can try nicotine patches, gums, lozenges, acupuncture, hypnosis, therapy, and medications. Oh and there's also the option of quitting cold turkey, but that rarely works for most people.
Medications, such as Zyban (bupropion) and Chantix (varenicline) work by releasing dopamine (the chemical that makes you feel pleasure) during your nicotine withdrawals so that you feel happy rather than irritated and craving a cigarette. It also blocks nicotine's access to the brain, so you can't feel its effects and therefore aren't chemically encouraged to smoke more.

However, Chantix in particular has some doctors wary. This quit-smoking drug has had some bad press lately because of its association with an increased risk for suicidal thoughts, especially among people dealing with depression or war vets. Its side effects also can include nausea, headache, vomiting, gas, insomnia, abnormal dreams and changes in taste perception. Oy! If that doesn't convince you to not give into the quit-smoking meds, then we don't know what will.

Tell us if you've had any experience with these medications. What methods have you used to fight the cravings?
Posted: 7/30/08