News
The latest news on this change — carefully culled from the world wide web by our change agents. They do the surfing, so you don't have to!
TED Prize Winners Announced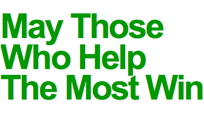 What if you could be granted one wish to change the world? The TED (Technology, Education and Design) Conference does just that...the TED prize is awarded annually to three exceptional individuals who each receive $100,000 and the granting of "One Wish to Change the World." After several months of preparation, they unveil their wish at an award ceremony held during the TED Conference. These wishes have led to collaborative initiatives with far-reaching impact.
This year's winners are Jill Tarter, the woman leading the world's search for extra-terrestrial life; Sylvia Earle, the deep-sea explorer who's spent her life campaigning for the oceans; and Jose Abreu, the maestro who's transformed the lives of tens of thousands of kids through classical music.

If you had one wish to change the world, what would it be?
Posted: 10/16/08