News
The latest news on this change — carefully culled from the world wide web by our change agents. They do the surfing, so you don't have to!
Musical Dreams Come True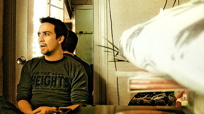 Last night, the Tony Awards gave "Best Musical" to a show called "In the Heights," a tale about family and pursuing one's dreams. Fittingly, the writer of the show, Lin-Manuel Miranda, is only 28 years old, and a Puerto Rican New Yorker who has pursued his own dreams as a writer and lyricist. The show evolved from an Off-Broadway production to an award-winning one in about a year's time.

"I used to dream about this moment; now I'm in it," Miranda told the audience.

"We chased our dreams and they have been realized," said "Heights" producer Jill Furman.

"In the Heights" centers around the proverbial New York bodega, showing glimpses of characters' lives, dreams and desires. Some characters modestly want the gossip of the day, while one wants to return to his native country, the Dominican Republic. Each character struggles to find his or her place in the surrounding neighborhood and city, constantly searching for a dream, even if it can't be identified at the time.

How do your own dreams fit into your surroundings? Do you associate a particular place with the pursuing of your dreams?
Posted: 6/16/08