News
The latest news on this change — carefully culled from the world wide web by our change agents. They do the surfing, so you don't have to!
You Booze, You Lose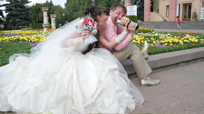 Today, we have two examples of why when it comes to planning your wedding reception, sometimes it pays to go dry.

The first story comes from Hawaii where a 64-year-old Australian man was set to marry his wahine (the Hawaiian word for woman) when American immigration officials put a little hitch in his get-along. It turns out that the man had already been married in Arizona 30 years earlier. However, he claims that he was so drunk he doesn't remember the romantic rendezvous he had in 1978 with an American blonde.
According to Fox News, the man had to admit in family court that he spent nearly a month on a drunken partying spree during leave from his job as an oil rig cook. Can you imagine being a guest at that raucous wedding?
The next story comes to us from Germany, where an irate bride left her drunken new husband in a field next to an autobahn to sleep off his stupor. Luckily, the German police seemed to have a better sense of humor than the cheesed-off bride. Here is an excerpt of the police report obtained by Der Spiegel newspaper:
"After further checks in the hospital, the newly wedded couple was able to travel home in a taxi, together and happy. It is not known whether the doctors succeeded in making the groom fit for his wedding night." [FOX News]
Posted: 6/27/08