News
The latest news on this change — carefully culled from the world wide web by our change agents. They do the surfing, so you don't have to!
Giant Swedish Drive-In Wedding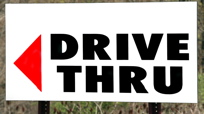 One city is going gaga for drive through weddings and no, it's not Kentwood, LA (home of both Britney and Jamie Lynn Spears). The sexy Swedes will host a car rally in the rural town of Vasteras during which a team of 10 priests from the Church of Sweden will perform marriage ceremonies along a motorcade of classic autos from the 1950s and 1960s.
"This is not just for fun, but also a way for the Church of Sweden to show we can take part in celebration and happiness and not just in crisis and catastrophes," says Jerker Asterlund, the event's organizer and a Church of Sweden priest.

And don't think those clever Swedes will be ignoring the obvious Vegas connection. The event will include a full gospel choir and, you guessed it, an Elvis impersonator.

If you'd like to be a guest at the event, all 36 couples are registered at Ikea. Just kidding!

Would you ever plan your wedding alongside 35 other couples? What if the price of the ceremony included free Swedish meatballs? [Reuters]
Posted: 7/1/08