News
The latest news on this change — carefully culled from the world wide web by our change agents. They do the surfing, so you don't have to!
Write to Meditate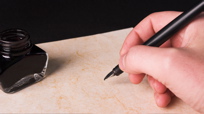 Although writing (often in the form of typing) factors into a lot of jobs and work assignments, it can also be a meditative and therapeutic activity. Susan Smalley of The Huffington Post says, "…in the process of writing the thoughts or emotions are somewhat 'distanced' from the 'I' experiencing them." In other words, you can explore your mind by purging what's inside, "getting it down on paper," gaining perspective while you do so.

Writing is a way of being honest with yourself by articulating what you may not be able to say aloud to anyone, even alone in a room! You may find that answers you were looking for were just below the surface and whipping out a pen and paper was all you needed to get at them.

Have you considered keeping a journal or diary for personal reflection's sake? If you already do this, how often do you write and do you find it to be meditative or therapeutic?
Posted: 9/11/08