News
The latest news on this change — carefully culled from the world wide web by our change agents. They do the surfing, so you don't have to!
Today is Global Peace Meditation Day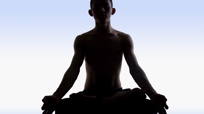 Everybody's doing it. Literally! Today, Wednesday, July 9 is the day to meditate because the Global Peace Meditation is taking place over in Dublin, Ireland. But because we are all so digitally connected these days, anyone around the globe can participate! The event is described as "a one-hour worldwide meditation for peace, harmony and love on the planet."

The meditation hour is slated to begin at 4:00pm Dublin time, 8:00am PST. But if you're stuck in a meeting or on the road, don't worry; it's about setting aside any hour today for the sole purpose of meditating. Maybe you can do it when you're waking up or perhaps when you get home from a long day of work?

If you want to learn more about the Chopra Center and meditating, visit Chopra.com. If you DO end up meditating today, let us know in the comments!
Posted: 7/9/08