News
The latest news on this change — carefully culled from the world wide web by our change agents. They do the surfing, so you don't have to!
Give Your Mind A Break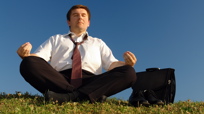 Doctors and experts have suggested that taking breaks is essential to your overall health, almost as much so as having a healthy diet or exercise regimen. But not just any kind of "break," like watching television; rather, something peaceful and mind-clearing like meditation. It's all about paying attention to mental health, which tends to get lost in the shuffle amidst daily tasks, to-do lists and responsibilities.

The Atlanta Journal-Constitution reports that there is a common assumption that taking a break equals "laziness," "idleness," or "indulgence." Not so! You deserve five-minute breaks throughout the day and it really will improve your mental clarity, which, of course, affects everything else you do.

A public relations executive says, "I connect with myself in the morning and even when things get out of control at work, I can think about how I felt in the morning and it really helps." Want "Nine Tips For Mental Fitness?" Hop on over to the Atlanta Journal-Constitution site and report back here! We are especially fond of the "treat yourself" tip. Which one do you really like?
Posted: 7/15/08