News
The latest news on this change — carefully culled from the world wide web by our change agents. They do the surfing, so you don't have to!
Brain Benefits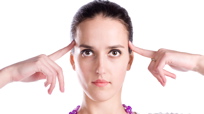 The health benefits of meditating are constantly being investigated and challenged, but only in the last 30 years or so have they been possible to pinpoint. In addition to stress reduction and relaxation, The Washington Post reports that meditating may actually improve brain functioning, something that has long been suspected, especially when it comes to religious experiences.

Elin Danien works at Penn's Museum or Archaeology and Anthropology and is part of a study that is aiming to prove this hypothesis. While listening to a meditation tape, the blood flow in her brain is monitored and analyzed. Meditation's effect on brain function has been compared to the more spiritual concept of "transcendence," as both result in similar blood flow patterns.

Studies like this one tend not to be invasive, but would you participate in one? How do you feel about meditation, a very personal behavior, being dissected like another science experiment?
Posted: 9/30/08