News
The latest news on this change — carefully culled from the world wide web by our change agents. They do the surfing, so you don't have to!
A Meditation for the New Moon and Solar Eclipse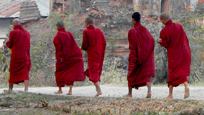 Tonight and tomorrow all day are very powerful astrological and energetic times for manifesting. It's the second New Moon in Cancer and a Solar Eclipse.
The New Moon is in effect tonight 11:36 p.m. through tomorrow midnight, and the Solar Eclipse is a total eclipse at 6:30 a.m. Eastern Time.
We would like to share with you a simple new-moon/solar-eclipse Manifesting Meditation which you can do alone or with others.
First, sit silently for a few minutes centering within yourself. Put your hands on your belly or your heart and take a few deep breaths into these areas to bring more awareness into your body and quiet your mind. When you feel ready, write down up to 10 things you would like to see happen in your life. It could be anything, but at the same time be realistic about your wishes. Use affirmative language and be very clear about what you want.
After you have finished, you can read your wishes aloud to make them more clear for yourself. As you read try to feel all those things as very possible and tangible, while releasing the details of how to get there, leaving it up to the special magnetism of this astrological time to draw it to you. You will begin to receive clues as to which actions to take in order to materialze your visions in the days and months to come.
Posted: 7/22/09