News
The latest news on this change — carefully culled from the world wide web by our change agents. They do the surfing, so you don't have to!
Get In The Mix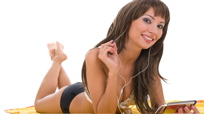 Summa, summa, summeatime! Time to sit back and unwind. (Quick! Name that tune!)

Oh, and listen to your iPod. We're halfway through the summer and now that you've practically mastered the iPod, it's time to crank it up and jam out to the summer 2008 hit list below! Everyone has their own hit list. Whether you prefer rocking out to tunes from the 80's or current jams, you can't deny the bubbly feeling a good summer hit list brings you. It's summertime!

(In no particular order)
1. Forever – Chris Brown
2. I Kissed A Girl – Katy Perry
3. Viva La Vida – Coldplay
4. Disturbia – Rihanna
5. Shake It – Metro Station
6. Lollipop – Lil' Wayne
7. When I Grow Up – Pussycat Dolls
8. Burnin' Up – Jonas Brothers
9. 7 Things – Miley Cyrus
10. Handlebars – The Flobots

What songs are on your summer hit list? If you need some more inspiration, try Pandora or Rhapsody...and there's always iTunes!
Posted: 7/22/08