News
The latest news on this change — carefully culled from the world wide web by our change agents. They do the surfing, so you don't have to!
Beyond Party Shuffle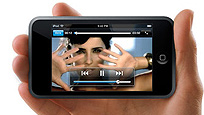 If you were amazed by what the iPod did for your record collection, wait until you read what they can do for your next casserole.
Gorenje, a Slovenian appliance company, has come up with a new software system that will allow users to remotely control their oven.

For example, if you decide to take in a parade on Thanksgiving, you could throw in your turkey beforehand and activate the oven with your iPod as you enjoy the marching bands and floating cartoon characters.

Unfortunately, Gorenje currently only distributes in Europe. But, maybe if we ask nicely they'll start shipping their products over here and you can remodel your kitchen into a techie paradise—they also have an iPod controlled fridge.

Are there certain members of your family who would help out more in the kitchen if there was an iPod involved?
Posted: 9/8/08