News
The latest news on this change — carefully culled from the world wide web by our change agents. They do the surfing, so you don't have to!
Got a Question for Wayne Dyer?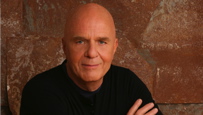 Next week, Ariane will be interviewing Wayne Dyer about his new movie, "Ambition to Meaning," for a new episode of Change Nation, the First30Days video podcast.

We'd like to give all our loyal First30Days members a chance to submit a question for the interview. If you have anything you'd like to ask, go ahead and submit your questions in the comments section below. Maybe you'd like to ask about his latest movie, or his last book, Change Your Thoughts, Change Your Life, or maybe you'd like to ask about getting through change in your life. Whatever it is—submit it below!

The interview will be running on January 16th on First30Days.com, so stay tuned.
Posted: 1/5/09