News
The latest news on this change — carefully culled from the world wide web by our change agents. They do the surfing, so you don't have to!
The Slap Heard Round the Hood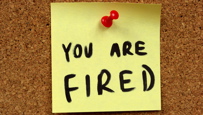 Before we begin, let's just get this out of the way: we never condone violence of any kind, especially against children (no matter how frustrating their behavior.) But we wanted to make mention of a story across the pond in which a parent smacked his daughter and was fired from his job for it because, well, does what happens at home play a role in what happens at work?
The parent in question was taken in by local police after his daughter called to report the incident (she later told police she didn't wish to file a report.) He'd never struck any of his five children before, and only wanted his daughter to understand the seriousness of her actions, he says. Still, because he went with the police, signed a statement and accepted a warning, he's now guilty of assault against a child. And as a football (soccer to us Americans) coach, his employer felt that unacceptable.

What's your take? Does this one act wipe out 15 years of outstanding work? Has anyone out there lost a job because of their actions off the job? [Telegraph]
Posted: 8/13/08