News
The latest news on this change — carefully culled from the world wide web by our change agents. They do the surfing, so you don't have to!
Your Neighborhood Is Making You Fat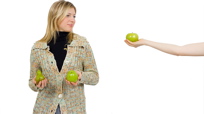 Neighborhoods can be filled with little buggers – the nosy gossiper that lives next door, the dog that won't stop doing its duty on your front lawn and the teenager who insists on playing loud music throughout all hours of the night. But what if someone told you that your waist size – big or small – might be the result of where you live?

"Pish, posh," you might say, but health experts say it may just be one of the leading culprits behind your battle with the bulge.

A new study shows that people who dwell in neighborhoods constructed prior to 1950 are thinner than those who call a more modern community their home. This is because older neighborhoods were built for people who travel on foot, not in cars. You know the feeling you get when you pass the sidewalk-lined streets of a lovely area? Pleasant neighborhoods of this sort have proven to encourage people to get up and get moving.

The study comes at a time when specific areas are being targeted by anti-obesity campaigns, like South Los Angeles new fast food ban. Statistics from the study showed that men carried about 10 pounds less when they lived in a pre-1950s neighborhood, while women weighed about six pounds less.

Researchers said another bonus was that the older neighborhoods are also apt to have local stores and businesses, prompting people to run errands by foot. So if you live in a modernized neighborhood, take a peek outside and you will notice that the closest stores require you to drive a car to pick the groceries.

Tell us about your neighborhood. Is it walkable or are you required to drive everywhere? And if so, does your pre-1950s residence help you break a sweat and lose weight?

[MSNBC]
Posted: 7/30/08