News
The latest news on this change — carefully culled from the world wide web by our change agents. They do the surfing, so you don't have to!
Wacky Diets That Won't Go Away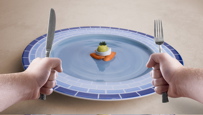 You've seen the commercials (possibly at 3:00am): drink this greenish-brown mixture three times a day, cut out a certain food group, rinse and repeat. Not all diets are gimmicky and downright suspect, but when there's a profit-making business behind them, you have reason to question the legitimacy and effectiveness of such diets.

Lisa Drayer is a nutritionist who recently appeared on CBS's "The Early Show" to debunk these fad diets. Drayer specifically addresses four big ones: the Grapefruit Diet, the Juice Fast Diet, the Cabbage Soup Diet and the Weight Loss Cure. It's less important how ridiculous or restrictive a diet sounds, and more important to consider the risks of ingesting goodness knows what.

For instance, the Weight Loss Cure diet involves being injected with HCG, a hormone originating from the urine of expecting women. It supposedly curbs appetite so that you only need to consume 500 calories a day! Kind of sounds like…starvation? While this diet has been debunked by the FDA, it still "sells." Some of the diets that center around one food, such as cabbage or grapefruit, both result in loss of water, NOT fat. Yes, you may shed pounds, but not the ones you want to!

If you're thinking about trying your hand (and gut) at one of the above, or you already have, take a few minutes to read over her thoughts. Do you have an experience to share, positive or negative, with a fad diet?

Posted: 10/3/08