News
The latest news on this change — carefully culled from the world wide web by our change agents. They do the surfing, so you don't have to!
If You Love Ice Cream, Don't Read This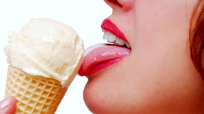 We don't like to depress you or mess with matters of the tummy, so let us apologize now. If any of your favorites are on this ice cream no-no list, we are so sorry to disappoint all of your indulgent dreams.

But we understand that everyone needs to have a treat now and then. In an effort to keep you from completely spoiling your hard work to lose weight, we thought you might want to check out the newly rated six fattiest ice creams on the market. That way, when you do take a couple spoonfuls, you'll know to steer clear of these calorie bombs or do a little extra work to burn 'em off.

* Häagen-Dazs Chocolate Peanut Butter: At 360 calories and 24 grams of fat per serving (and there's a lot of servings in that little pint), this is by far the worst on the list.

* Ben & Jerry's Chubby Hubby: Each serving has 330 calories and 20 grams of fat per serving. WHY, Ben & Jerry's, must you tempt us so?

* Häagen-Dazs Butter Pecan: You probably guessed it by now...this ice cream has over 300 calories per serving (310 calories to be exact) and 23 grams of fat.
* Sheer Bliss Pomegranate With Chocolate Chips: You probably felt duped by the fact that pomegranate was in the name of this delicious ice cream, but at 320 calories and 20 grams of fat, this is anything but healthy.

* Ben & Jerry's Vermonty Python: This flavor is only a little bit better than its Chubby Hubby counterpart, at 300 calories and 19 grams of fat.

* Coldstone Creamery Cookie Batter: Something called "cookie batter" should have tipped you off. At 300 calories and 16 grams of fat, it's best to avoid this temptation.

Of course, as scary as these numbers seem, remember that the key is to enjoy treats in moderation. If you just can't resist one of these flavors, limit yourself to half a serving and resolve to go for a quick walk afterwards. Or if you don't want to ingest those calories, try sorbet or frozen yogurt.

We're curious: How do you learn to moderate when indulging in your favorite treat? [ABC News]
Posted: 7/11/08