News
The latest news on this change — carefully culled from the world wide web by our change agents. They do the surfing, so you don't have to!
The YouTube Guru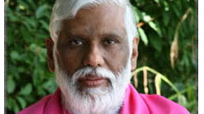 Not many people can claim the title "YouTube Guru," but this is how followers refer to Dattatreya Siva Baba, a 60 year-old mystic and teacher from India. Predictably, he gets his messages (on subjects like meditation and quantum mechanics) out by making YouTube videos, but he has a greater spiritual belief these days that he'll discuss in twenty cities around the country.

What is it? Baba strongly believes that we are in the midst of great spiritual change, because the year of enlightenment is approaching and on the Vedic calendar, the "Full Moon of the Guru" implies that there will be a "spiritual renewal of the planet." More specifically, he sees 2012 as a great turning point for humanity.

Baba is aware that his messages can seem far-fetched, but he is a strong believer in faith. "Faith is utter positivity. Currently we operate on doubt and cynicism…what good is there to continue this negative mode based on doubt?" Whether you believe his predictions or not, his emphasis on being positive is essential to living more spiritually. Check out the rest of his interview with the San Francisco Chronicle and think about how your own spirituality centers around positivity or if it doesn't.
Posted: 7/15/08