News
The latest news on this change — carefully culled from the world wide web by our change agents. They do the surfing, so you don't have to!
Attack of the Killer Tomatoes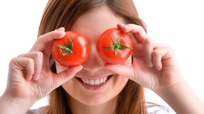 Wait! Before you put that tomato on your sandwich, you might want to…cook it? You may have already washed it, but that might not be good enough.

Texas, New Mexico, Arizona, Utah, Colorado, Kansas, Idaho, Illinois and Indiana have been plagued with outbreaks of salmonella, a group of bacteria that can cause diarrheal illness in humans. The sick individuals in Texas and New Mexico were infected after eating raw tomatoes of the Roma and red round varieties. United States health officials are investigating: did the other states receive or grow a batch with these nasty buggers, too?

Sheesh, you really love a fresh, juicy tomato in your mixed green salad. While thorough cooking is the only way to kill salmonella, you can prevent it from growing with these tips from the Centers for Disease Control.

Individuals, especially in Texas and New Mexico, are encouraged not eat raw Roma or red round tomatoes other than those sold attached to the vine or grown at home until the source is found.
* Don't buy bruised or damaged tomatoes.
* Throw away tomatoes that look spoiled.
* Wash all tomatoes thoroughly under running water. Keep cut, peeled or cooked tomatoes out of the refrigerator for less than two hours. Throw away if longer.
* Store tomatoes that you plan to eat raw away from raw meats, raw seafood and raw produce items.
* Wash everything that has contact with raw foods—cutting boards, dishes, utensils and counter tops—with hot water and soap before using it for another kind of food.
While this particular situation concerns that delicious red fruit that is often confused for a veggie, these helpful healthy living reminders can be applied anytime you are dealing with raw food. [Associated Press]
Posted: 6/3/08