News
The latest news on this change — carefully culled from the world wide web by our change agents. They do the surfing, so you don't have to!
The New Energy Bar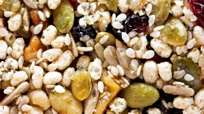 Remember when the only retail product you could customize was your L.L. Bean backpack? Maybe your hand towels when you got married? Customization was usually relegated to slapping your initials on something and that's it. Boy, have times changed!

ElementBars, hailing from Chicago, lets you customize energy bars when, you know, the grocery store options just don't cut it! First, choose from the following bases: chewy, oaty, crispy or datey. Speaking of "datey," the site even has a built-in warning to tell you if the ingredients you've chosen are "incompatible." Sounds like an online dating site! Will you find a match? If not right away, the site will help you build your own bar based on a "few lifestyle-oriented questions."

Here comes the inevitable question: would you do this?!? Bars cost $3 a pop and you are required to buy a minimum of 12, so at $36, is energy bar customization worth it to you? What would be your recipe for the perfect energy bar?
Posted: 10/7/08