News
The latest news on this change — carefully culled from the world wide web by our change agents. They do the surfing, so you don't have to!
Thanksgiving Recipe Contest!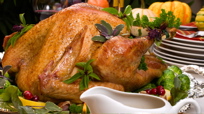 Pumpkin pie, stuffing, buttery mashed potatoes, glistening turkey...

Thanksgiving isn't exactly the healthiest holiday, even if you do take an extra helping of green beans and cranberry sauce! But then again, are holidays ever really about eating well? While it's important to celebrate and take part in family traditions, living healthier should still be a daily activity even on big-meal days.

That doesn't mean you'll be eating low-fat granola bars at the dinner table come Thanksgiving. No way! But perhaps you can come up with a "healthy recipe makeover" for the big feast and enter the Reader's Digest recipe contest. Is there a different take on stuffing that doesn't require so much butter? A veggie dish that isn't covered in hollandaise or cheese sauce? A dessert that packs in the flavor without packing in the calories?

Submit a recipe and photo by November 12 if you want to be in the running. On the RD site, you will find some Thanksgiving food inspiration if you're feeling stuck, with recipes such as Tangerine Cranberry Sorbet and Mustard Green Beans. Do you have any healthy dishes from your family's Turkey Day repertoire? Or some new ideas brewing?
Posted: 10/14/08