News
The latest news on this change — carefully culled from the world wide web by our change agents. They do the surfing, so you don't have to!
Stop Splurges and Still Savor Summer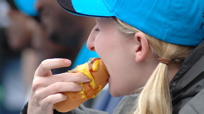 Ah, summer vacation. It's the time of the year that contains many of our favorite things, like tropical vacations, an over-sized dog slobbering on your ear during an eight-hour road trip and, of course, eating on the run. But snacking in the car or on a plane does not have to be unhealthy. Here's a cheat sheet to help you make the best decisions from the worst options.
* Vending machines: Look for plain pretzels, a small bag of peanuts or almonds, or whole wheat crackers with peanut butter. Steer clear of potato, corn and tortilla chips, which are all low in protein and fiber, and often packed with saturated and trans fats.
* Gas-station mini marts: Go for fresh fruit, low-fat yogurt, packages of low-fat string cheese or even a small carton of skim milk. You can also make your own "trail mix" by throwing together a low-sugar dry cereal, such as Shredded Wheat or Cheerios, some dried fruit and nuts or small pretzels for some added crunch. Use the bag to mix everything together. No brainer: avoid sweets that will just make you sleepy for travel.
* Stadiums and concert arenas: If checking out your favorite band or baseball team seems to go hand-in-hand with chowing down on a hot dog, then registered dietitian Sarah Krieger says this is the place to indulge. These franks, she says, are often all beef and high quality (and price). Your best option—peanuts in a shell. Keep to a one-ounce serving, or 20 whole peanuts. Skip nachos with cheese at 350 calories and 19 grams of fat per six- to eight-chip serving. Totally not worth it!
* Airport: Your best pick will be a protein or energy bar from a newsstand. Avoid chocolate-coated bars, and look for ones that are 200 calories or less and have at least three grams of fiber. If all you can find is a selection of granola bars, look for one with the shortest ingredient list or opt for a small bag of unsalted nuts. Salty snacks, like potato chips, can make you feel bloated and dehydrated.
What's your favorite travel snack? [MSNBC]
Posted: 6/4/08