News
The latest news on this change — carefully culled from the world wide web by our change agents. They do the surfing, so you don't have to!
First Family of Fitness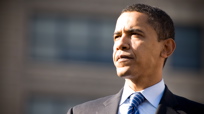 Apparently, our new President-elect Barack Obama, or future change leader-in-chief as we'd like to refer to him, has been making time during the transition process to squeeze in some exercise. According to this Associated Press article, fitness isn't just a passion for the new leader of the free world, but he gets his whole family, including wife Michelle and daughters Sasha and Malia, into the action.

President-elect Obama admits that he tries to get in about 45 minutes of exercise a day, six days a week, though he says he prefers to work out for 90 minutes at a time. He says he likes to alternate between cardio and strength training, and as we all know from publicity video over the past two years, he likes to play basketball as well.

That's quite a lot of exercising for someone with a number of crises to fix in the coming months, but we imagine that if it takes some extra time on the elliptical for Obama to find the solution to this troubled economy, by all means sweat it out!

Michelle takes a less-vigorous approach to her fitness, working out about 90 minutes, three days a week. She reportedly prefers a step machine, the treadmill and cardio exercises using weights.

Since the Obamas have succeeded in creating an important message around embracing change over the last two years, maybe they'll support another important message for the country—that of fitness and health.

Do the Obamas inspire you to live healthier?
Posted: 11/19/08