News
The latest news on this change — carefully culled from the world wide web by our change agents. They do the surfing, so you don't have to!
TV Off, Relationships On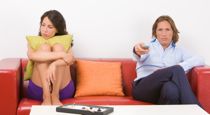 Your parents warned you that too much television would rot your brain, but did they ever tell you it would also make roadkill of your relationships?

A new study from the University of Maryland found that people who are "not happy" watch 30% more TV than "very happy" people. The researchers went a step further saying that television watching could perpetuate an unhappiness cycle (and in the aftermath of a long election season and lots of late nights with the news channels, we tend to agree with that one.) Apparently those who watch more put off more "real life," becoming less and less engaged and happy. And the same standards apply to marrieds and they do to singles.

In fact, the study warned that for those who are having problems in their relationships–whether they are with a partner, friends or co-workers–television provides a method of self-medication. Sure, it seems better than medicating with food or drugs and alcohol, but all those things will land you in the same place relationally and affect your health, too. Bottom line? Don't look to your TV as a means of improving your relationship.

On the brighter side, the study did say that happy people enjoyed watching TV too, just that happy people tend to watch less. While television can provide some wonderful discussion and bonding opportunities between you, your partner and/or your kids, the key is not to rely on it as a crutch. So watch the Macy's Thanksgiving Day Parade or "It's A Wonderful Life," but skip the "A Christmas Story" marathon. And if you need additional proof that turning off the tube will make you happier, know that couples who watch less TV are having about 30% more sex. Sounds like a great new holiday tradition to us!

How much TV do you and/or the members of your family watch, especially during holidays? Do you believe it's as detrimental to our mental health and relationships as the study says?
Posted: 11/25/08