News
The latest news on this change — carefully culled from the world wide web by our change agents. They do the surfing, so you don't have to!
Moving in Together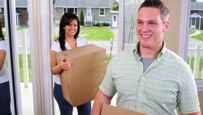 Whether you're getting hitched or embracing the modern tradition of premarital cohabitation, moving in with your significant other is a big deal. From fighting for the covers every night to waking up with the person you love each morning, this new chapter in your life—especially the first 30 days—may be rife with happy moments and potential conflicts.

While there's no foolproof plan to avoiding relationship complications after you move in together, our new friends at The Frisky have some great tips for getting through the beginning stages of creating a home together without wishing you'd kept your own place, just in case.

For instance, they suggest establishing ground rules and decorating the new place together—that way, you feel like you're both investing in living there, not just perpetually spending the night. Also, you should try spending some time apart (no! really! it's a gem of an idea) which can help you appreciate each other more.

Read the rest of their tips here, and share your own! What have you learned from moving in together that would help others about to take the plunge into cohabitational bliss?
Posted: 11/5/08