News
The latest news on this change — carefully culled from the world wide web by our change agents. They do the surfing, so you don't have to!
Hug It Out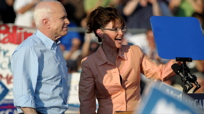 Normally the male-female relationships we discuss on this topic are of a romantic nature, but the political news dominating the airwaves lately has brought up some interesting aspects about improving professional relationships.

Influenced by the interaction between Republican Presidential nominee, John McCain, and his running mate, Sarah Palin, The New York Times recently published an entire article about the etiquette of hugging between male and female colleagues. They pointed out that the senator favors a chaste embrace with Palin followed by a kiss for his wife, Cindy, much has changed since the 1980's when Walter Mondale and his running mate Geraldine Ferraro greeted with a more formal handshake.

"It's a form of professional endearment," The New York Times quoted one business etiquette expert as saying about the modern hug. "Getting closer than two arms' length when you know the other person says, 'I respect you, we have a comfort level, we have a professional bond.'"

Other experts such as Leticia Baldridge, former social secretary to Jacqueline Kennedy, say that a warm handshake between male and female colleagues is best.

Basically, it comes down to your level of comfort. Anytime a person—male or female—oversteps his or her bounds when it comes to personal space, it can make the situation uncomfortable for anyone involved.

What sort of greeting do you prefer with your colleagues? Do you share the same greeting with male and female colleagues?
Posted: 9/9/08