News
The latest news on this change — carefully culled from the world wide web by our change agents. They do the surfing, so you don't have to!
Guy Speak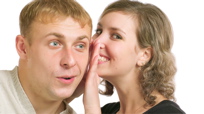 Aren't you tired of sounding like a broken record, asking the same question 10 times in a relationship and never getting a straight answer?

Well, maybe it's you.

Your communication style, that is. If you're trying to talk to your boyfriend or your husband and you don't feel like you're getting through, you might want to change your tactic a bit. Here are four of the more popular relationship questions and how you can rephrase them to get your message across.

DON'T ASK: Can you not slobber on me when you kiss me?
INSTEAD, SAY: I've been dreaming about you kissing me right there/like this. Want to reenact my dream?
WHY? Sex expert Ian Kerner, Ph.D., says that talking about sex and romance should be sexy, creative, fun and naughty, not instructional or critical.

DON'T ASK: Why would you back out of a party if you promised we'd go?
INSTEAD, SAY: I thought we were planning on doing this, like we talked about.
WHY? Saying "I" makes your communication clear, says author Jackie Black, Ph.D., as guys have a tendency to be distracted.

DON'T ASK: Would it kill you to take me out some place nice for a change?
INSTEAD, SAY: I really love our weekly burger and beers night and I think it would be fun to add something a little different to the mix, too. How about we try that new wine bar on 39th street?
WHY? Acknowledging first what you like softens a request for something different, says relationship expert Wendy Atterberry from The Frisky. Also, being careful to use the word "and" instead of "but" lets men know you don't want to completely change what he's doing, you just want to add to what he's doing.

DON'T ASK: You're not still dating other people, are you?
INSTEAD SAY: I'm really happy with how things are going between us and I'm ready to make things more exclusive. How would you feel about that?
WHY? Not only is the second question non-accusatory, it assertively and succinctly expresses how you're feeling and creates an opening for honest communication about your relationship, Atterberry explains.

Have you changed your communicatio style to accomodate your partner? How has it worked?
Posted: 1/8/09