News
The latest news on this change — carefully culled from the world wide web by our change agents. They do the surfing, so you don't have to!
Gotta Get Away...from Each Other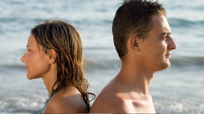 Although a vacation can seem like just the right jolt you need to improve your relationship with your spouse, many relationship experts warn that the shining sun of a tropical paradise could shed light on already-existing problems. In Great Britain, divorce lawyers say their offices are extra busy during the post-vacation months of August and September.

"In daily life, couples can be so busy with work and social commitments that they spend little time together," Edinburgh relationship coach Jackie Walker explains to the International Herald Tribune. "But sometimes all day, every day, for a couple of weeks is too much. If you are used to having time apart in your daily lives, allow for this when you are on holiday."

This doesn't have to involve sleeping in different rooms or bringing along your laptop so you can spend an afternoon catching up on emails. It can be as simple as scheduling a guys-only golf day or a trip to the day spa. If you're traveling for a week or more, you could even schedule separate side trips. For example, if you're going to Los Angeles, one of you could do a solo weekend at Disneyland and the other could head for the mountains for a night. When you meet up again, you'll be refreshed and have plenty to catch up on.

Have you tried spending time alone on your vacation with your significant other? How did it go? Do you think you'd both have a better vacation if you spent a little time apart?
Posted: 8/21/08