News
The latest news on this change — carefully culled from the world wide web by our change agents. They do the surfing, so you don't have to!
A Gift of Friendship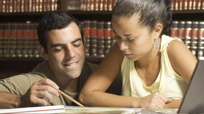 With Thanksgiving over, the holidays are in full swing. It seems as if everyone is searching for ways to be more frugal in their shopping this year. As an alternative to giving traditional gifts, consider giving your time as a present. The Big Brothers Big Sisters organization is a mentoring program that pairs adults with at-risk kids. The organization is always long on kids who need a mentor but short on volunteers. Young boys are especially in need of positive male role models. By donating your services, you could directly impact a child's life and help him or her improve relationships with others and pursue one's dreams.
It's a great way to make a positive change chain reaction! In fact, a 1995 study showed that the at-risk youth (often referred to as Littles) who had a Big Brother or Big Sister (known as Bigs) were:

* 46% less likely to begin using illegal drugs
* 27% less likely to begin using alcohol
* 52% less likely to skip school
* 37% less likely to skip a class
* more confident of their performance in schoolwork
* one-third less likely to hit someone
* getting along better with their families

In many Bigs' and Littles' relationships, the mentor learns from the child as much as the child learns from the mentor. That's the case with Carol Pacheco and her Little, Karla. Karla met Carol when she was 12, and since then, she's inspired Karla to return the favor and become a Big Sister someday. In return, Karla keeps Carol active and up-to-date on youth culture.

Do you do anything currently to help young people in your community? Have you thought about volunteering as a holiday gift?
Posted: 12/2/08