News
The latest news on this change — carefully culled from the world wide web by our change agents. They do the surfing, so you don't have to!
Yoganomics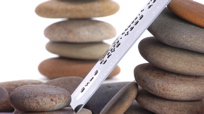 It's no secret that the benefits of yoga can certainly help us in our day-to-day lives. Learning to breathe and reduce our stress can lead to a healthy lifestyle, but can it also lead to more money?

Columnist and financial advisor for MSN Money Brent Kessel says yes. Yoga teaches us to breathe, which reduces our stress and anxiety, and once our emotions are under control, we are able to make better decisions financially.

Kessel lists four yoga-inspired steps having more money:

Create Balance
Many people repeat the bad habits that keep us from gaining the money that we want. By finding a balance between our wants and our needs, we will be able to gain more in the long run.

Find Your Blind Spots
Look honestly at the areas you've been avoiding and see what your bad money behaviors mask.

Breathe
Deep breathing and relaxing your belly muscles will help calm your fears and anxieties. When done during times of financial stress, you will be able to make rational decisions without your judgment being clouded by tension.

Focus
Give your undivided attention to one thing at a time and complete the task before moving on. It will help with your stress and anxiety, as well as make you feel more accomplished.

For more yoga-inspired tips on creating wealth, be sure to check out Kessel's article.

Do you think these yoga tips would work for you? Why or why not?
Posted: 7/14/08