News
The latest news on this change — carefully culled from the world wide web by our change agents. They do the surfing, so you don't have to!
Living with News Reports on Bank Losses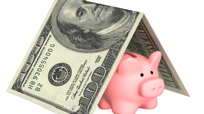 When we read our newspapers, we usually react or respond quickly to the lead information in stories then move on to the next one. We do the same thing with web news. Here's a story that can make our hearts sink and a lump come to our throats. But, if we scroll down, that is, "read below the fold" so to speak, we may be able to put a report like this one in context.

Context is what we all need these days, isn't it? What's the big picture? How do we interpret this data we're getting? Admittedly we know these news reports detail what happened in the recent past, but we sometimes treat the information like it's up-to-date as of yesterday or something. We can't help it, but then we feel bad.

If you go to today's link, scroll down to the section, "People may not understand the context," and you'll begin to feel better. We all need that, right? Because we're not in charge of the entire financial situation, just our little corner of it, which probably means this: bank or mattress? As far as we're concerned a little context helps create a little peace.
Posted: 3/17/09