News
The latest news on this change — carefully culled from the world wide web by our change agents. They do the surfing, so you don't have to!
A Very Recessionista Little Christmas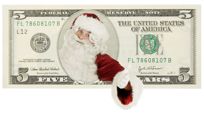 On Monday it was finally made official: the U.S. is definitely in a recession. While most of us have been feeling the pinch for a while, the holidays bring an added challenge to stretch our dollars as far as we can. The good news is that from gift giving to decorating and dressing for parties, there are definitely stylish ways to celebrate this time of year on a tight budget. A few tips:
Gift Giving
Gift giving gets even more complicated when you're pinching pennies, but it doesn't have to be a total buzzkill. If you're one of those characters who has a million people on her holiday list, consider scaling down the number. Suggest a kids-only rule among your family members, or have everyone draw a name for one adult to shop for. Give gifts in bulk: a gift basket to an entire family instead of separate gifts to each individual, a nice bottle of wine to people who live together with a set of glasses or some cool coasters.
Set a budget per person or household and stick to it. You can give great gifts for $25, $10, even $5, as long as the presentation is beautiful and the intention is genuine and thoughtful. For example, an inexpensive scarf from Forever21 is going to make a greater impact in a box, wrapped with matte purple paper and metallic silver ribbon than it would wrapped in plain paper with no bow at all. Be sure to check The Frisky's guide to gifts under $25 for some more budget-friendly ideas.
Inexpensive homemade gifts like baked goods, mixed CDs, jewelry, and other crafty items are always cool if they're presented creatively.
Decorating
The classiest way to decorate on a budget is to pick a color scheme and not feel boxed in by the traditional red and green combo. In fact, red and green can look kind of cheep and cheesy together. A more chic choice is sticking with one main color: various shades of green, all red, gold, silver, white, or even purple. If you put up a tree, make sure all the ornaments coordinate with your color scheme. To create a pulled-together, purposeful look, group items together: a few pine cones with greenery, some old school Christmas light bulbs, or small glass balls in a bowl.
Use produce—it's cheap! If you've got a green theme, fill a clear cylinder vase with some limes and tie a ribbon around the base. For a red theme, fill a bowl with some pomegranates (they're in season this time of year), or put a few cranberries in a clean, empty mason jar with a scented candle inside (fig is a great holiday scent that doesn't overpower).
There are lots more tips at The Frisky, including how to dress for all those holiday events on a budget and making sure you get the most bang for your travel buck. Who knew being a recessionista could be so easy? Hey—if Hannah Montana can shop at Forever 21, you've got no excuse. -Wendy Atterberry
Posted: 12/3/08