News
The latest news on this change — carefully culled from the world wide web by our change agents. They do the surfing, so you don't have to!
The Job Market for Graduates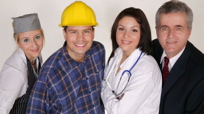 This year's college seniors are busy slogging their way through midterms, a rowdy NCAA football season as any on record and doing everything they possibly can to put off thinking about the inevitable. Graduation is less than seven months away and that degree they've been working so hard for isn't going to get them very far come May.

It's not that getting a degree isn't worthwhile, it's just that this year's group of fresh faces from academia are facing an extremely tight job market and fighting for what few open spots there are with those who've been spit out into the treacherous waters of unemployment.

The problem is really just a numbers game. Without breaking out the graphs and getting into percentages (we're writers, not mathemagicians, remember?) it comes down to this: more students than ever finishing college. Companies hiring fewer workers. High unemployment rates. It's a perfect storm of the good (well-educated people wanting to work) and the bad (an ecomomy in the tank.)
But just because the outlook is glum doesn't mean it's all bad. While major cutbacks in finance, retail, manufacturing and construction are causing people with those majors sleepless nights, demand for recent graduates is still up in accounting, public service, health care, education and technology. And if you are in a field that isn't looking spectacular, think of it as an opportunity to pursue other passions. Sure, you might have made a killing on Wall Street someday. But you also might find the freedom in not going that traditional route. Maybe there's the heart of an artist or social worker under that Brooks Brothers suit. You won't know till you try! And if not, there's always grad school. Right now, deferring the "real world" for another two years or so doesn't seem so bad.
How are these reports adjusting your post-college plans? [WSJ]
Posted: 11/11/08