News
The latest news on this change — carefully culled from the world wide web by our change agents. They do the surfing, so you don't have to!
America's Worst Intersections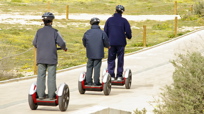 Here's a list that can only grow over the decades. The 100 worst traffic intersections. These are NOT roadways we're talking here! They're intersections! Many roadways in this country have multiple bad intersections. And they're here on this list.

"We'll be moving to Montana soon…."

Can you imagine? Pedestrian traffic is preferable to sitting in these jams. Use this as a warning sign. Stay home. Work from home. Become a celebrity columnist. Write about the virtues of making life in your local community better. Then stay there. Don't go out. Invite people over. Live the salon life. Whew!

Here's the list. There's also a link on the page to the full story.
Posted: 2/26/09