News
The latest news on this change — carefully culled from the world wide web by our change agents. They do the surfing, so you don't have to!
Make Your Workout Virtual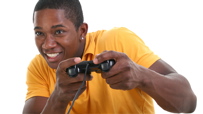 Remember when summer vacation meant playing outside, running around and being exhausted by dinner time? Computer and video games changed all that. Suddenly, more and more free time got devoted to these sedentary "activities," and coupled with sub-par eating habits, kids are doing anything but getting in shape. Adults may be guilty of the same thing! But not every latest gadget restricts any sort of workout to one's index finger. Newsweek reports on some innovative alternatives—let's see what they've got:

* The Wii Fit was one of the first to show the crossover from gaming to exercise, and it still remains popular, along with Dance Dance Revolution. Now, Nintendo DS allows you to hook up a pedometer to the system and get access to diet tips and health trivia.
* If you're more of a computer person, FitBit will allow you to keep on top of your fitness regimen online. There will be a community function in addition that will allow you to connect with your family and friends if you want to get in shape together (virtually anyway!).
* Expresso Fitness brings a little more excitement to sometimes monotonous stationary-biking, in the form of TV screens that incorporate a video game aspect to your pedaling. In addition, workout info can be uploaded to the internet and you can track your progress.

Have you tried any of the above? If not, can you see yourself getting more motivated if there were more entertainment involved in your workout?
Posted: 10/22/08