News
The latest news on this change — carefully culled from the world wide web by our change agents. They do the surfing, so you don't have to!
Careening Off the Workout Wagon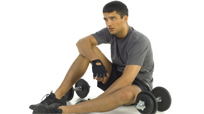 There is no shortage of exercise regimens out there, whether you're perusing magazines like Shape, surfing health web sites like Weight Watchers or taking a peek at the latest work-out video, but the challenge is not picking one, it's sticking to one. Is there a better way to go about committing to exercise that the majority of us are failing to grasp?

Gretchen Rubin of "The Happiness Project" focuses on using resolutions to really make change happen. Exercising and getting in shape are two of those resolutions the majority of us have made at one time, most likely more than once. Exercising is obviously beneficial to both the mind and body, but it also means falling off the wagon can be a real downer, even devastating because you feel like a failure.

Rubin consults a yoga instructor for the common pitfalls in committing to exercise using familiar declarations like "I have to start TOMORROW. No delay!" and looking for warning signs in these statements. Even if you do fall off the exercise wagon, it's important to remember you can pick yourself up and get right back on again!

How do you get yourself back on the work-out wagon? Have you been able to formulate an exercise plan you can stick to?

Posted: 10/2/08