News
The latest news on this change — carefully culled from the world wide web by our change agents. They do the surfing, so you don't have to!
You've Got Skills... Use Them!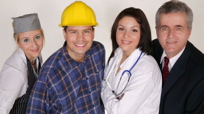 Choosing a career for financial reasons isn't always the right decision, but if you've got the interest and the drive then nothing should hold you back. Here's a look at some of the highest paying jobs right now:

1. Petroleum Engineer – Average salary: $120,780

These guys use high-tech equipment to bring us natural gas and oil. Most engineers work in the field, so be prepared for that if you pursue this career. A cool perk to this job is the opportunities abroad, so if you like to travel, this could be for you. In terms of education, you'll need a bachelor's degree; however, some states also require practicing engineers to obtain a license.

2. Construction Manager – Average salary: $73,700

You've got a lot to deal with in this profession. It's a 24/7 job that requires attention to detail, good interpersonal skills and a desire to manage others. There are times when you'll have to deal with delays and accidents, as well as weather, but if you thrive on a challenge, then this may be for you. Education requirements are typically a bachelor's degree in construction science, construction management or civil engineering.


3. Registered Nurse – Average salary: $57,280

There are always opportunities in healthcare, but not everyone can be a nurse. You need to enjoy helping others and be able to take the strain that comes with the position. If you can do it and if you truly enjoy it, this position can be very rewarding and monetarily beneficial. You'll need at least an associate's degree from an accredited nursing program and you'll have many licenses to maintain throughout your career. Don't expect the typical 40-hour workweek—nurses are known to work nights and weekends, even pulling 12-24 hour shifts in larger hospitals.

For other careers that pay relatively well with comparable skills, check out the tips and advice from Yahoo! HotJobs.

Have you considered working or do you work in any of these fields? Tell us some on-the-job tales!
Posted: 7/28/08