News
The latest news on this change — carefully culled from the world wide web by our change agents. They do the surfing, so you don't have to!
Toughing It Out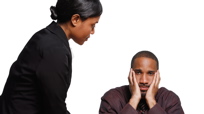 While you're out trying to find your dream job, make sure you don't quit your current job. We know, we know. You're sick of your job already and want to seek new opportunities in the field you really want. Well sorry to burst your bubble, but you're going to have to stay put, because you don't want to dive into a dream job without financial stability, right? However, that doesn't mean you have to be miserable the entire time. MSNBC offers advice from Sam Glenn, a workplace consultant and motivational speaker who focuses on the attitude of the workplace and Mary Crane, a Denver-based consultant to Fortune 500 companies and law firms.

Glenn gives tips on how to deal with your workplace—even if it's hell on Earth. Sometimes when you have a boss that doesn't seem to be giving you a break, it's just best to take it all with a grain of salt. Feeling bold? Try and address the problem head on. Crane puts into perspective simply—sometimes work is work and it's just not fun.

Have you had to cope with a horrible workplace? If so, how did you deal with it?
Posted: 6/25/08