News
The latest news on this change — carefully culled from the world wide web by our change agents. They do the surfing, so you don't have to!
Who's Your Wingman?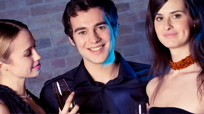 When you're out cruising for a potential new romance, sometimes it not enough just to go at it alone. Sometimes you need a wingman or wingwoman; a pal whose sole purpose is to make you look good in front of the dating pool microcosm.

The role of the wingman is an understated one, but it comes with a great deal of honor and responsibility. And if you want your buddies to return the favor, you might want to consider studying up on the art. The position is sanctified over at AskMen.com and they've even come up with a list of rules for every wingman.

"Wingmen take care of each other. Just like any other relationship (as fleeting as this one is) it requires a give-and-take attitude, and above all else, trust. Your partner is sending you into battle because he trusts you; don't you dare betray that trust," writes "The Player."

And men aren't the only ones who benefit from helpful dating sidekicks. Actress Mary Louise Parker recently told AfterEllen.com about a night she spent as a wingwoman helping her lesbian friend pick up girls. "Yeah, I'm just like, 'Be nice to women, that's what they want,'" she says.

Do you have any wingwoman or wingman techniques you'd care to share?
Posted: 7/29/08