News
The latest news on this change — carefully culled from the world wide web by our change agents. They do the surfing, so you don't have to!
People Who Live in Straw Houses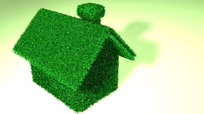 In the classic tale of The Three Little Pigs, the straw house was inferior to both the stick and the brick house, and the wolf barely
had to sneeze to blow it over. It turns out if those piggies just would have figured out some decent insulation techniques, they would have had a sturdy, sustainable green home, able to withstand the greatest of huffs and puffs.

"The exterior walls are stacked piles of finished straw bales. The bales are covered in a natural finish that, when completed, resembles stone or brick material and seals off the straw from the weather--protecting it for hundreds of years," writes J.F. McDougal on HuffingtonPost.com. Not only is straw a cheap, sustainable material, but also it's non-toxic and is so efficient as an insulation method that homeowners in Tucson only use a minimal amount of air conditioning. And, the homes aren't just available in the Arizona Desert. According to the Kansas City InfoZine, straw bales have been used to build homes in 49
states and 40 countries.

Since the homes require such elementary construction methods, many owner/builders gather friends for construction parties during which everyone can lend a hand to the stacking and plastering process. Contrary to what you might be imagining, these unconventional homes don't look anything like the structures the little pigs constructed. In fact, they look more like somewhere that Snow White or Sleeping Beauty might have lived. With the housing market in shambles and the need for environmental action as great as ever, now is the perfect time to build a straw home straight from a fairytale!


Tell us—would you build a house of straw, or are you going to stick with a house of bricks?
Posted: 7/3/08