News
The latest news on this change — carefully culled from the world wide web by our change agents. They do the surfing, so you don't have to!
Passing on the Polyurethane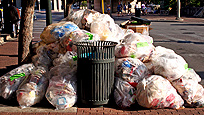 Just how hard would it be to live without plastic for an entire month? Brave Brit Christine Jeavans is about to find out. The BBC correspondent has vowed not to bring any new plastic into her home and to blog about her progress.

In order to prepare for her experiment, Jeavans kept track of the amount of plastic products she used/consumed from for the month of July. Among her stash were 36 grocery bags, 23 polystyrene teacups with lids, 24 coffee cup lids, and 120 diapers. She believes her biggest challenge will be in navigating packaging-happy modern grocery stores.

"If plastic in general, and plastic packaging in particular, is all about facilitating our current way of living, will I have to return to the labor-intensive shopping patterns of previous decades to complete my non-plastic mission? I'm about to find out," she writes.
If you're here because you're ready to embark on your first 30 days of creating a green home, we think Jeavans will make a great companion. Follow along on her blog as she turns down take-out containers, goes without new DVD's, and learns the joys of changing disposable diapers.


Then tell us—how are you ridding your home of plastic and packaging waste? Are you finding it easy, or harder than you thought?
Posted: 8/1/08