News
The latest news on this change — carefully culled from the world wide web by our change agents. They do the surfing, so you don't have to!
Holiday Style is a Cinch!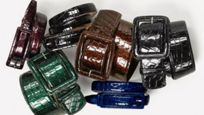 Sometimes changing your look requires a drastic overhaul, but a new you doesn't always have to mean major drama—or major cash. In lean economic times, you can make over an outfit for the holidays (or just everyday) with a new accessory, like a belt.

Yep, that's right: Those pencil thin belts that cinch the waist are all the rage this fall season, and it may just be the one accessory that can give your look the pinch of pizzazz it needs.

Fashion gurus say that skinny belts can also be the perfect accessory because of the extra layers that chillier weather can bring. Because you will more often be donning a coat or sweater, the ever-popular chunky belt should not be the accessory of choice.

Try adding a skinny belt to a jacket, dress, cardigan or blouse. These accessories can also be ideal for adding a flash of color to an otherwise blah outfit. Want to make your look – and your waist – look streamlined? Then make sure to wrap your belt around the natural inward curve of your waist, making your silhouette look totally sleek. If you are short-waisted, however, then you may want to try dropping the belt a bit lower to create a longer appearance.

And men, you obviously will not be wearing a skinny belt, but keep in mind that the right belt can always create a slimming effect for you too. Be sure to choose one that fits your waist just right and keeps you pants in place. You'll give your outfit a final touch or create a diversion from your cookie-and-eggnog-stuffed belly–no problem!

So...what accessories are you donning this year to jazz up old outfits?
*image via BrownGirlGumbo
Posted: 11/26/08