The Largest Virtual Peace Summit Ever Created!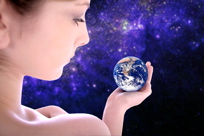 I just signed up for PeaceWeek, the largest virtual peace summit ever created, with more than 50 global peacebuilders helping us make the shift to a culture of peace. Please join me for this inspirational event beginning on September 14th and culminating with the International Day of Peace on September 21st!

The summit is totally free and will feature leaders from around the world, such as the 13 Indigenous Grandmothers, Rep. Dennis Kucinich, Aqeela Sherrils, Dr. A. T. Ariyaratne, Shiva Rea, and Ambassador John McDonald. You'll hear about groundbreaking work from Israel to Sri Lanka to Watts, as well as emerging innovations such as a Peace Academy and the Youth Promise Act. You'll also learn powerful peace practices at the personal and community level.

Listen to as many or as few calls as you'd like. Calls are taped, so you can always catch up with the ones you miss later.

This should be a fantastic event! Please forward this invite to friends and others who may be interested in joining this global movement of peace pioneers!
Posted: 9/7/10